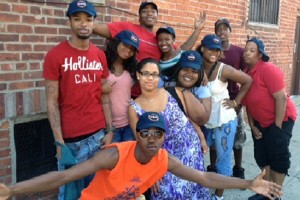 In the final stage of our youth empowerment pipeline, RHI serves 150 young adult participants. The services and programs provide support for the life transition as independent adults progressing on a self-determined path.
College Scholars Program
Pre-College Scholars supports young adults who aspire to enroll in college. Whether they've secured their HSE, taken a break from college and feel ready to re-enroll, or just realizing as a young adult that college is in their future, this group is supported from the first inquiry up until actual college acceptance.
College Scholars supports Red Hook young adults currently working toward a two or four year degree. Scholars receive assistance with financial aid applications, scholarship opportunities, and guidance and advocacy in navigating the college journey. By gaining a strong network of emotional support, College Scholars are able to focus on the path to graduation.
One-on-one and small group tutoring is offered for college students or those working to complete their HSE.

Employment Training:
Our 12-week employment training program provides young adults with the opportunity to gain basic professional skills to qualify for entry-level employment with our external and internal paid job-training opportunities. Participants improve their overall marketability by acquiring new skills and work experience.
For those young adults who are already job-ready, RHI provides one-on-one support with job searches, resumes and cover letter writing, and interview preparation.
Socio-Emotional Support:
RHI offers one-on-one counseling, case management, and reproductive health counseling. We refer to a core group of partners for legal support, financial literacy, benefits assistance and long-term mental health care.
For more information about our Young Adult Program, please email [email protected]
Digital Stewards & Red Hook WIFI
RHI's Digital Stewards program trains young adults from Red Hook to use technology as a pathway to community development and employment. Over eight months, Digital Stewards learn media and technology skills while installing and maintaining Red Hook WIFI, a free wireless Internet network for the community.
In a neighborhood with a 75% unemployment rate for 19-24 year olds, Digital Stewards is a life-changing alternative for Red Hook youth. Program graduates are supported to find full-time jobs, fellowships or further training in the tech and media industries.
"Thank you so much for believing in me and not giving up on me. You wouldn't stop until the work was done."
– Note from a College Scholar to RHI's College Retention Specialist