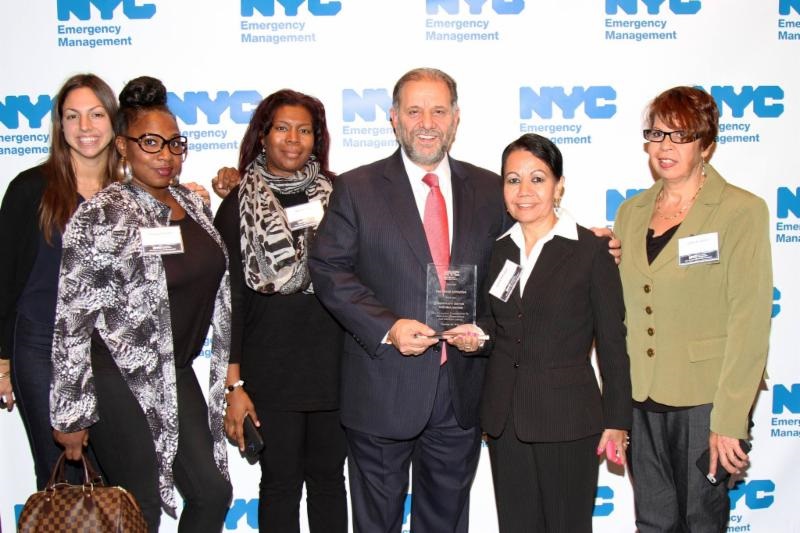 RHI Receives Partners in Preparedness Award
Last week, RHI and the Red Hook Local Leaders proudly accepted the Partners in Preparedness Award from the NYC Office of Emergency Management (OEM). Four alumni of the Local Leaders program, who now co-facilitate training sessions at RHI, attended the ceremony to accept the award from Commissioner Joseph J. Esposito.
Local Leaders is a bi-annual emergency preparedness training series, conducted in both English and Spanish, to ensure that residents of Red Hook gain the skills needed in a crisis and the ability to become leaders of the response and recovery efforts of any emergency or disaster. Over 125 Local Leaders have participated in the program since it began last year as a project of the Red Hook Coalition. The training improves individual and family preparedness and strengthens the social resiliency of Red Hook residents. Partners include NYC agencies, EMTs, FDNY, and organizing groups.
RHI is honored to be the recipient of an award recognizing the resilience and preparedness of Red Hook residents in the event of an emergency. Three years ago today, when Hurricane Sandy left thousands of residents of the Red Hook Houses without electricity, heat, or running water, RHI staff organized and took action to respond to the needs of their own community. Today, the presence of Local Leaders increases the neighborhood's preparedness and ensures long-term resilience here in Red Hook.