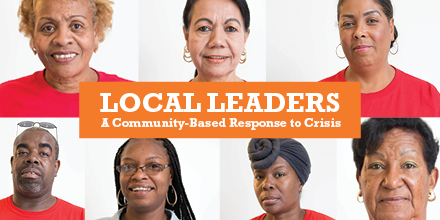 On October 29, 2012, Hurricane Sandy hit New York City, reminding coastal residents of the disproportionate effects of climate change. Red Hook, a community where close to 70% of residents live in public housing, was one of the most affected areas. The neighborhood is surrounded on three sides by water. RHI, active in the community for 10 years, opened its doors 14 hours a day for 24 consecutive days after the storm, serving thousands of Red Hook residents experiencing power, heat and running water outages that lasted up to three weeks.
RHI's immediate crisis response and recovery efforts, led by Red Hook residents, volunteers and staff, taught us the true power of community-led response to emergencies and the importance of social networks among neighbors in times of crisis. In 2014, RHI launched "Local Leaders," a training program designed for public housing residents to learn about emergency preparedness and community organizing.
Local Leader Impact:
• After completing the program over 70% of respondents consistently reported that they believe that they can make a positive change in the community.
• Local Leaders have participated in three major marches in Washington DC (People's Climate March 2017, Cuts to Housing Protest 2017, Women's March 2017) and several actions in New York City. In 2014, following the launch of the program, 50 Local Leaders participated in the People's Climate March.
• Seven Local Leaders were hired by RHI to conduct a Participatory Action Research project about mold in public housing. The project resulted in a report released on the fourth anniversary of Hurricane Sandy.
• Two Local Leaders testified at a City Council hearing in 2017 to address mold in public housing.
• Local Leaders hosted a job fair on the first anniversary of Hurricane Sandy.
Local Leaders are more involved in decision making in Red Hook and advocating for others:
• Local Leaders are involved in NYC's Participatory Budgeting process.
• Local Leaders attend community meetings that influence decisions made in Red Hook.
RHI's immediate response to the Hurricane can be viewed online in our 2013 report.