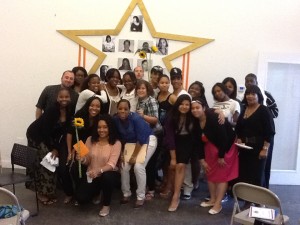 RHI serves 99 high school students through our Youth Leader program, the second stage of our pipeline. This four-year program provides a rare opportunity for participants to receive paid, year-round training and work experience.
After a four-month training, Youth leaders work as RHI Peer Health Educators, Peer Counselors, Youth Organizers, Teen Chefs, Youth Researchers, Entrepreneurs, and Photojournalists. They share what they learn – through workshops, demonstrations, "one-on-ones" and community-focused activities – with 650 additional youth each year.
All enrolled Youth Leaders receive the following: social work screening, behavioral health screening, academic screening, college readiness programming, career exposure programming, resume preparation and referrals for employment/ internships, and social justice activities.
2017 Impact
100% of high school seniors graduated (70%) or remain on track to graduate high school in the next nine months (30%)
91% of high school seniors who expressed interest in college gained admission or persisted toward being college-bound.
96% of Youth Leaders felt like they gained access to resources to secure future employment
"This is my other family because they teach me right from wrong and I feel safe and comfortable here."
– High School Youth Leader