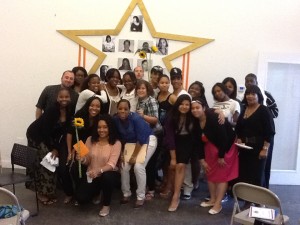 RHI serves 99 high school students through our Youth Leader program, the second stage of our pipeline. This four-year program provides a rare opportunity for participants to receive paid, year-round training and work experience.
After a four-month training, Youth leaders share what they learn through workshops, demonstrations, "one-on-ones", and community focused activities as:
RHI Peer Health Educators
Peer Counselors
Youth Organizers
Teen Chefs
Youth Researchers
Entrepreneurs
Photojournalists
They share what they learn bringing their knowledge to an additional 650 youth each year.
All enrolled Youth Leaders receive the following: social work screening, behavioral health screening, academic screening, college readiness programming, career exposure programming, resume preparation and referrals for employment/ internships, and social justice activities.
2017 Impact
100% of high school seniors graduated (70%) or remain on track to graduate high school in the next nine months (30%)
91% of high school seniors who expressed interest in college gained admission or persisted toward being college-bound.
96% of Youth Leaders felt like they gained access to resources to secure future employment
"This is my other family because they teach me right from wrong and I feel safe and comfortable here."
– High School Youth Leader