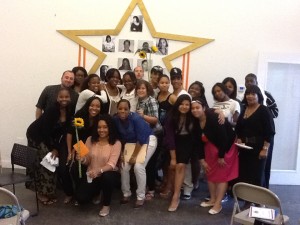 RHI serves 105 high school participants through our Youth Leader program, the second stage of our pipeline. This four-year program is designed to train teenagers in basic employment and leadership skills, while supporting their holistic and academic development. Within this program, young people not only gain their own skills and knowledge, they also begin to teach their peers and share their knowledge and skills to improve their own community.
After a four-month training, Youth leaders work as RHI Peer Health Educators, Peer Counselors, Youth Organizers, Teen Chefs, Youth Researchers, Entrepreneurs, and Photojournalists. They share what they learn – through workshops, demonstrations, "one-on-ones" and community-focused activities – with 650 additional youth each year.
All enrolled Youth Leaders receive the following: social work screening, behavioral health screening, academic screening, college readiness programming, career exposure programming, resume preparation and referrals for employment/ internships, and social justice activities.
"It was inspiring to see that many people at Career Day started the same way I did, so I know I can be successful too."
– High School Youth Leader
For more information about our Youth Leaders Program, please email [email protected]