Brooklyn Patch: Red Hook Concrete Playground Will Be Transformed Into Skate Park And Play Area.
And a group of young people in the neighborhood helped make it happen.
RED HOOK, BROOKLYN — An old, concrete playground in Red Hook is getting an infusion of public money so it can be transformed into a skate park and play area.
The Harold Ickes Playground, on the corner of Hamilton Avenue and Van Brunt Street, has long been neglected at the edge of the industrial neighborhood.
Right now, the spaces is all pavement and concrete, with a rundown softball or kickball court on one side of it. A group of kids in the neighborhood, though, got together and worked with local officials to make sure it got the attention it needs.
October 27, 2016
DAILY NEWS: NYCHA PAINTS OVER BROOKLYN HOUSING PROJECT'S TOXIC MOLD ISSUE, WHICH CONTINUES TO PUT TENANTS AT RISK YEARS AFTER HURRICANE SANDY
By Reuven Blau
Toxic mold continues to plague the Red Hook public housing complex four years after it was hit hard by Hurricane Sandy, according to a survey released Thursday.
The survey by the Red Hook Initiative finds that out of 280 respondents of the Red Hook Houses, 40% said they currently have mold and 94% have had leaks and mold in the past.
"It is completely unacceptable," said Jill Eisenhard, the founder of the Red Hook Initiative. "It is at the stage to becoming a public health crisis. We need to hold people accountable." Read more…
Fourteen community organizations – with eight serving Brooklyn – have received grants in an innovative program spearheaded by First Lady Chirlane McCray to provide mental health care in existing neighborhood facilities.
At Red Hook Initiative on Friday, McCray told reporters that a bedrock of the funding was a $10 million social-innovation grant from the Corporation for National and Community Service.
McCray said that for her, "the groundbreaking potential of Connections to Care can be summed up with one big number – 40,000. That is how many New Yorkers will receive mental health care over the next five years with this initiative. That means 40,000 New Yorkers who will be able to talk about their issues and challenges in a place they trust, with people they trust." Read more…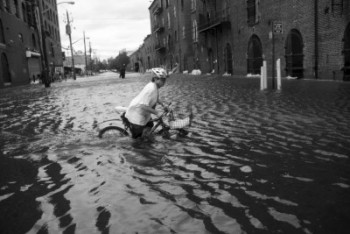 October 27, 2015
The New Yorker: IS NEW YORK READY FOR ANOTHER SANDY?
By Eric Klinenberg
Hurricane Patricia, which hit southwestern Mexico last weekend, was the largest recorded hurricane to make landfall off the Pacific, but it was not the only historic storm this October. At the beginning of the month, a tropical weather system formed southwest of Bermuda and intensified into a Category 4 hurricane, with heavy rain and surface winds reaching a hundred and fifty-five miles per hour. Meteorologists called it Joaquin, and predicted that the dangerous storm would soon turn northeast. According to their models, New York City and the surrounding coastal region fell directly within the "cone of uncertainty" where Joaquin could make landfall. New York Governor Andrew Cuomo activated the State Emergency Operations Center, and New Jersey Governor Chris Christie declared a state of emergency, warning that major flooding events were likely. No one wanted to be caught unprepared. Read more…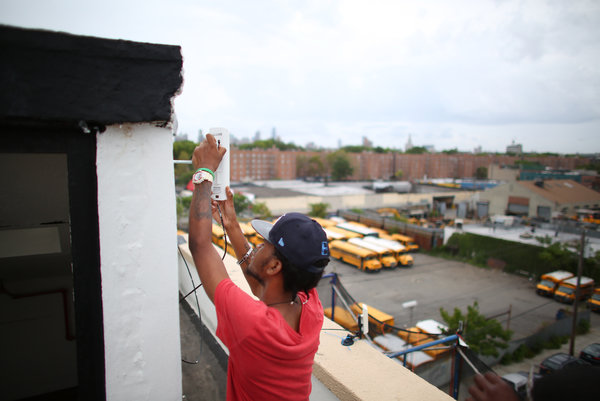 August 22, 2014
The New York Times: RED HOOK'S CUTTING EDGE WIRELESS NETWORK
By Noam Cohen
Robert Smith, a 19-year-old in a gray T-shirt and camouflage pants, climbed the stairwell of the Joseph Miccio Community Center in Red Hook, scaled a ladder at the top floor and jumped onto the roof. He soon found what he was looking for: bright, white plastic boxes, each about the size of a brick, some with little antennas sticking out. Mr. Smith pulled a laptop from his backpack and got to work, tending to the nodes of the Red Hook mesh, an ambitious plan to link up a local wireless digital network across the neighborhood. Read more…