For the second year in a row Red Hook is fortunate to take part in a process called Participatory Budgeting (PB), where community members get to decide how discretionary funds are spent in their district. This year, Council Member Carlos Menchaca has given District 38 decision-making power over $2 million. For the last four weeks, a group of youth from RHI have been participating in the process as Budget Delegates, working hard to ensure that Red Hook benefits from the PB process. Over the next three months they will be giving the community updates on the progress of the PB process and the amazing work that they are doing!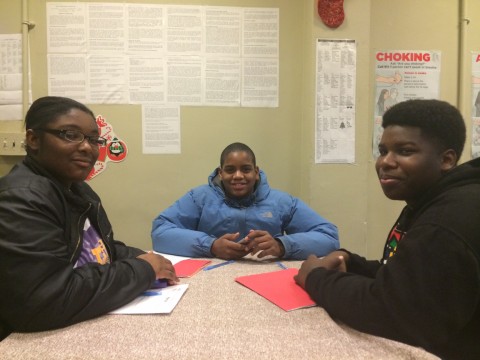 Hello! Our names are Quincy Phillips and Kayla Johnson, and we are both part of the Participatory Budgeting Delegate Committee here in Red Hook. Basically being a delegate is very important to RHI and the Red Hook community. What it is, is that the Council Member Carlos Menchaca from District 38 is giving Red Hook $2 million to fix up roads, schools, and other community places. Our job is to help figure out what to do with the money. But the most important part of the process is hearing what the community has to say.
To kick off the PB process we had an idea collection assembly at the Red Hook Initiative a couple of months ago. At this assembly, the process of Participatory Budgeting was explained to those from the community who chose to come. After the process was explained, people were split into different groups with an assignment of writing down things they would like some of the $2 million to go to. As they wrote those things down, they also separated the budgeting items into capital and expense funds. From the activity, all the suggestions were actually noted and are currently being sorted through by us! This is to show just how important our role is, suggestions from a simple project are taken seriously by us and have been recorded to be tried as a reality.
Recently, we have begun the second phase of the process where the delegates (that's us!) meet to discuss the project ideas and narrow them down. The first two delegate meetings here at the RHI with Ella (a social work intern at RHI) were successful. So far we came up with ideas to start planning future works and Ella talked about how we as delegates should encourage other people to put their ideas in so we could actually benefit from the money and let it not go to waste.
Kayla Johnson & Quincy Phillips
The next step in the process is to narrow down the list of project ideas further, and then begin developing the proposals. Check back for more updates on this process from our youth delegates!