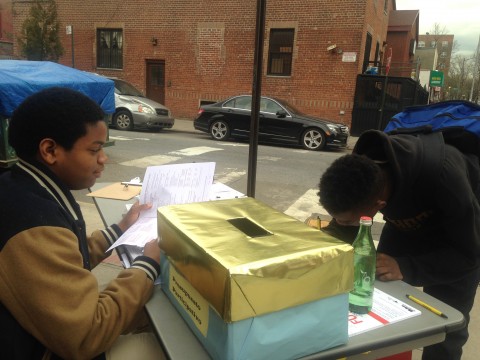 The 2014-2015 Participatory Budgeting results were announced in early May! The winning projects for Red Hook were… Technology upgrades for PS 676 (along with PS 1, MS 88, PS 105, PS 310, PS 69, & New Voices Middle School), bathroom renovations for the early childhood bathrooms at PS 15 (and PS 94), and a new Multimedia Room for the Red Hook Library! We are proud to say that the Library Media Room project was designed by one of the RHI youth delegates.
Throughout the month of April, RHI youth delegates have been out in the community spreading the word about their projects and getting community members out to vote. Here is what some of them had to say about their experience:
Okay, so this is it. The Participatory Budgeting 2014-2015 session is over :(. I had a blast while it lasted. I gained so much experience and met a lot of cool and amazing people on the way. The whole process is very inspiring and I recommend everyone to go and join next year. When I first heard about it I wasn't really sure if I would like it, but over time I fell in love with it. It's awesome – you actually have a say in decisions. So if you feel like an outcast, like I did, this will be the perfect opportunity to be heard. Not interested in politics? Don't worry. If you're into the arts and are very creative, this will still be perfect. After all the projects and decisions have been made, they will need your creative skills to actually build a model for how your idea of the project should look. So if you're interested in hands-on activities, drawing, sculpting, etc., you'll love Participatory Budgeting. It was so great and I shared a lot of memories that I won't forget. A big shoutout to Catherine McBride and Ella Nimmo, who I will miss dearly :(, for making this whole thing a reality for me. I can't wait for next year. Until then, adios!
Quincy Phillips, Youth Delegate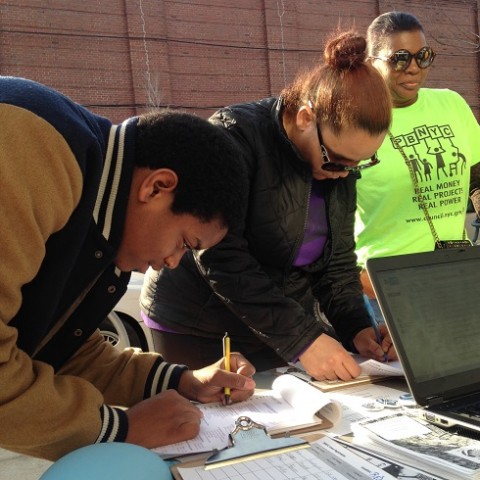 The final week of the participatory budget was one of the busiest, most thrilling experiences by far! I had the chance to speak to the youth about what their community could become with their help. Also, I got the chance to show off the display that I had worked on with my team. It felt good to see all the hard work pay off in the end. People seemed really interested in what the boards had to display. I thought it was pretty cool for my first time – I had been on a website that I know thousands of people must have visited and I was on it talking about efforts in trying to improve my community! The PB process has been a fun learning experience and I most definitely see myself wanting to participate in other related events to help improve my community again.
Naheem Morris, Youth Delegate