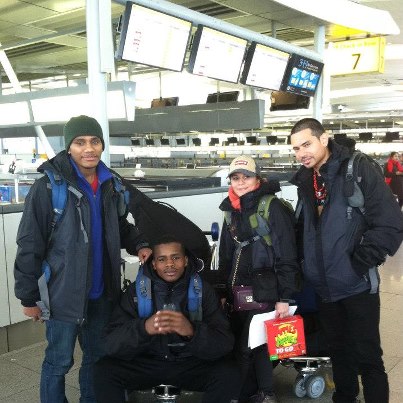 The Red Hook Initiative has been all over the globe this week.
At the White House 
RHI's Media Programs Coordinator, Tony Schloss, and OTI Fellow, Jonathan Baldwin, presented at an event at the White House yesterday which highlighted innovative disaster response solutions and featured the joint work of New America Foundation's Open Technology Institute (OTI)and the Red Hook Initiative.
Last November, in the wake of the hurricane, RHI and OTI worked with FEMA, neighborhood volunteers, and local businesses to rapidly expand the community wireless network we had been building in Red Hook for over a year. The expansion meant that hundreds of area residents could access crucial information, check in with family and friends, and apply for disaster assistance online, even after many traditional broadband services failed in the area. OTI and RHI also launched an SMS-based local application that streamlined the community's ability to report, map, and respond to issues, both disaster-related and longstanding.
"Our experience shows the critical value of pairing technological and social infrastructure, which enabled us to expand the community wireless network," says OTI Director Sascha Meinrath. "We see our work in Red Hook as a model for public-private partnership that equips neighborhoods for disaster response while deepening their integration into the digital environment."
 Thanks to support from the NYC Center for Economic Opportunity Work Progress Program, RHI has hired eight "Digital Stewards", 19 – 24 year olds from Red Hook who began training last week. These young people will continue to build and expand the WiFi network in Red Hook over the coming year.
On Mount Kilimanjaro 
Frances Medina, former RHI participant and now full-time staff member is currently climbing Mount Kilimanjaro, the tallest peak in Africa, and the highest free standing mountain in the world. She is one of 4 young adults from New York City who were selected through an essay competition. The climb is organized by Kilimanjaro Initiative (KI), a non-profit organization based in Kenya. "The climb's objective is to create a link between youth (ages 18-27) in New York City and East Africa, and encourage them to be constructive agents of change not just in their communities, but also across continents," said Tim Challen, who is leading the climb and founded KI in 2005, after being shot during an armed robbery in Nairobi in 2003.
Frances sent a message this week, before beginning the ascent where she said: "If you knew it, if you felt it, if you held it at your grip, this experience has saved my life.  Mount Kilimanjaro, here I come."