Since our last update on Participatory Budgeting the ballot has been finalized and the delegates have been preparing for the project expos and voting week! If you are a resident of Red Hook/District 38 and over 14 years of age make sure you come to the expos to learn more about each project and come out to vote! Without your vote none of these projects will happen!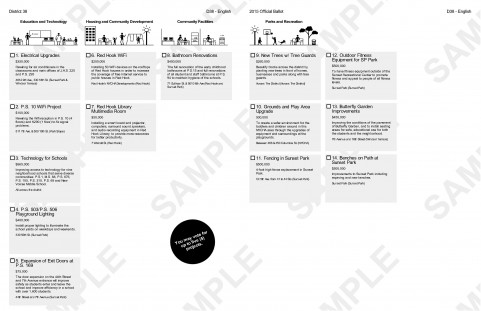 Expos will take place:
Thursday, April 2 at 6:30pm
MS 88 – 544 7th Ave
Sunday, April 12th at 2pm
Sunset Park High School – 153 35th St
Wednesday, April 15th at 6:30pm
The Red Hook Initiative – 767 Hicks St.
Voting will take place April 11-19th:
Weekday Poll Sites:
UPROSE – 166a 22nd St. (3pm – 6pm)
Red Hook Initiative – 767 Hicks St. (3pm—8pm)
District Office – 4417 4th Avenue (10am – 6pm)
Miccio Center – 110 West 9th St. (3pm – 8pm)
Chinese – American Planning Council – 4101 8th Ave (3pm – 8pm)
Greenwood Park – 555 7th Ave – EVERYDAY (including weekends) 3pm – 7pm
Pop – Up Voting Sites Weekdays and Weekends at varying times:
1. Sunset Park Library – 5108 4th Ave (Tues. 4/14 3pm-6pm & Weds. 4/15 3pm-8pm)
2. Red Hook Library – (Tues. 4/14 3pm-8pm, Weds. 4/15 3pm-6pm & Sat. 4/18 1pm-5pm)
3. Schools in the District – (Drop off : 7am – 8:30 am / Pick up – 2pm – 4pm)
4. Churches – (Sundays 9am – 1pm)
5. Train Stations – (Weekends 12pm – 8pm – various times & Weekdays 5pm – 8pm)
6. Slope Park, Sunset Park and Coffey Park – (Weekdays 2pm – 6pm)
7. Red Hook Houses – (Weekdays 3pm-8pm)
8. Opportunities for a Better Tomorrow – 783 4th Ave (Tues. 4/14 & Thurs. 4/16 3pm-8pm)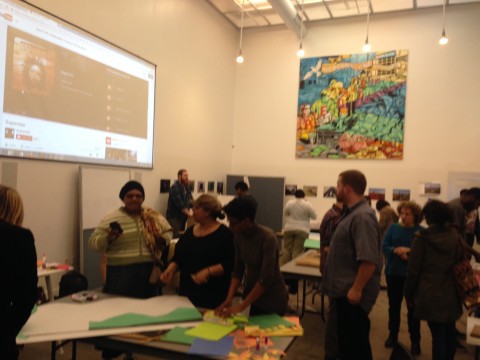 Here is what some of the youth delegates had to say about what they've been up to over the last month:
Hello, my name is Kayla Johnson and as a Participatory Budgeting Delegate my peers and I have gone to events to show our support, and I will gladly update you all on such things.One of the two main events my peers and I participated in was an event hosted by Arts and Democracy. There we created pictures, drawings, and other artistic designs on poster boards for the promotion of each of the projects for the PB Expos. The other event was an outreach training at St. Francis College that gave us knowledge on how to get others to join in the voting April 11th through 19th.
The first event had all delegates divided into a few groups. We were all given poster boards and next to one of the walls was a big table full of any artistic thing we would need: Construction paper, plain paper, scissors, designed letters, and even things I hadn't really seen before. My group got started rather quickly and we were designing a poster board based on the topic of Red Hook Wifi. Other groups got different topics but Ella, Channe and I were much more focussed on our own topic,and we were having fun at the same time and that was great because it didn't feel like were were slaving away at our own work.
The second event at St. Francis College was less active with more information. This event was mainly hosted by Michael from Community Voices Heard and Marissa from the City Council Speakers office. These two mostly gave information on what Participatory Budgeting was, how to do outreach, and everything in relation to it while the spectators sat quietly, listened and asked important questions. At one point we were paired up with others to talk about issues, and we would then come together to act out outreach scenarios. Most were shy but two brave and humorous people ended up making the event less serious than it originally was supposed to be.
Kayla Johnson, Youth Delegate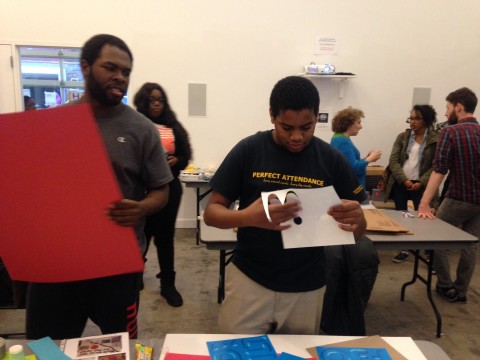 Like Kayla mentioned, during the Arts and Democracy event that was scheduled for us to attend on March 11th we began working on our proposal boards! This was my first time in a long time since high school working on a board to be put up for display so that others can view. I was a little nervous at first because I didn't have any ideas on what we should put on the board. Although it was my first time doing this, we had a few people at the RHI who were ready and willing to help us construct our boards. There were so many art supplies to choose from  it got a little overwhelming in for me at first. I was really excited once I saw the 3D model that was constructed to be put in the front of the display, I felt that really tied everything up in a bow tie and was ready to deliver to the world!
While it was getting time to wrap up on our committee boards two gentlemen and a lady  interviewed me on how PB was going so far. Some of the questions that were asked were "What are some challenges you faced during the PB process?", "Was this my first time doing something like this?", and "What was my overall experience doing something like this for the first time?". It was a pretty cool feeling for me once I finished the interview because the guy who interviewed me told me I was a natural in front of the camera which boosted my ego a little.
Naheem Morris, Youth Delegate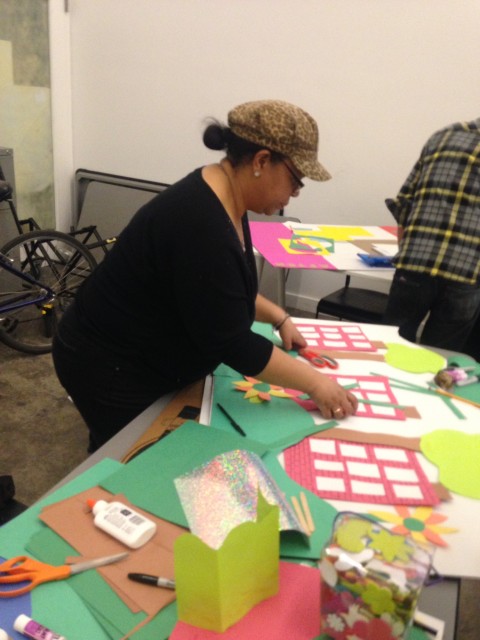 The community has spoken, and the council has chosen. Out of all the ideas to make Red Hook a better place, 6 have been approved by government agencies and await the expos in the coming weeks. One proposal will bring more trees/tree-guards to Red Hook to bring beauty to the blocks of Red Hook, and clean air. Another proposal called technology for schools will bring a technological upgrade to 9 schools (including some in Red Hook). The bathroom renovations proposal will revitalize all bathrooms inside PS.15. We the Digital Stewards (and other youth delegates from Red Hook) helped develop 2 project proposals that to us, are very important. One project being the Red Hook WiFi proposal. This proposal is to create WiFi nodes throughout NYCHA housing in attempt to bring the power of the internet to everybody. We feel that everyone deserves to be able to tap into the information highway. The other project proposal is the Red Hook Library Multimedia Room proposal. The proposal will fill the back room of the library with new iMacs, smart-boards, audio recording equipment, and surround sound systems. This proposal is important for the community because it will bring more people of Red Hook to the library. This is Jesus Benitez of the District 38 participatory budgeting committee reminding all who read this to come make an impact where they live by voting April 11th-19th!
Jesus Benitez, Youth Delegate