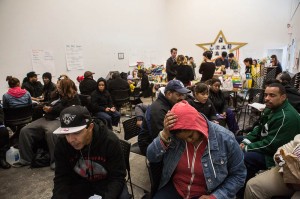 All of us at the Red Hook Initiative would like to pause for a moment to give thanks as we emerge from three intense, grueling, horrifying and beautiful weeks of relief work, and start to look ahead to the next stage of recovery.
We are grateful for our community, within Red Hook and beyond. We will never be able to fully express our thanks to the many individuals, groups, organizations, businesses, and others who joined with us to address the critical needs that the hurricane laid bare.
We are grateful to our young people – who helped during the storm, and were patient during the weeks before we could resume our regular programming that is so important in their lives.
We are grateful to our amazing, creative, generous and tireless staff, many of whom worked 12 hour days and then returned to homes without heat, electricity, or running water.
We are grateful for this opportunity we have to work together with our supporters, both new and old, to plan for and create a better and more equitable neighborhood and city.
During a time of extreme devastation, RHI has witnessed a great abundance of generosity and the transcendence of human spirit. For that, we thank you. Our best wishes to all of you for a restful and restorative Thanksgiving.